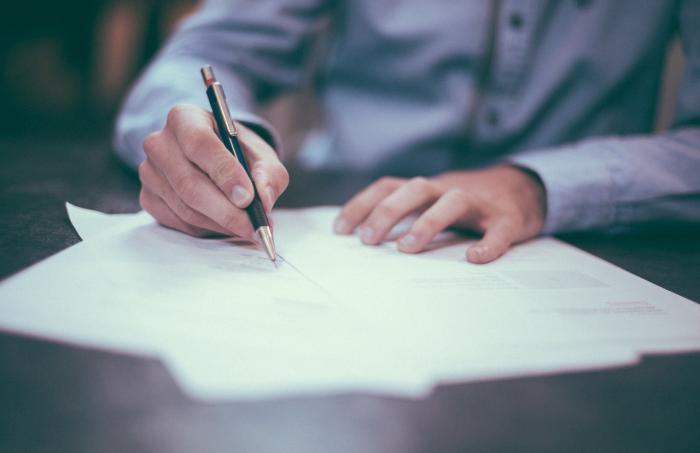 Our clients often ask us why they can't sign their legal documents at home and email us the copies. In this increasingly digital age, more offices are becoming paperless, while Godfreys Law is embracing technology and moving with the times, there are still a number of reasons why we need to physically sign and witness you signing documents.
Signing Wills
For example, Wills must be signed with two witnesses present at the same time. Only Wills being read out in the movies usually start with, "Being of sound mind and sound body," but part of the reason witnesses are needed for signing a Will is making sure the person is healthy and not being coerced.
Signing bank documents

When dealing with a bank, the bank manager will want the documents explained and witnessed, normally by one of our legal team. As part of the Anti-Money Laundering legislation, the bank needs to confirm your identity, know who you are, and where the money is coming from.

Godfreys Law has obligations under the AML CFT Act to check your ID and confirm your identity before we can start acting on your behalf. So, when one of our legal team witnesses your signature, we're saying that we know who you are and can vouch for your identity.
Signing EPAs or Separation Agreements
Then there are other documents where, as well as signing as witnesses, the lawyer has to sign a certificate of independent advice. The common ones for this are Separation Agreements, Enduring Powers of Attorney and Occupation Right Agreements.

In these cases, signing these kinds of documents have major impacts on your future and can change your life. The law says that your lawyer has to make sure you understand what signing these documents means, which is why you need a lawyer to witness.
Signing documents electronically
There are many other documents which can be signed at home and the pages then emailed. Using "counterpart copies" is becoming increasingly common now. It is quick and convenient. It is possible where parties to an agreement agree that each of them can sign on separate copies; and together, all those copies will make up the contract. They also agree that the copies can be emailed.

So next time you are being asked to sign some legal papers, ask your legal advisor, is it possible to do this in some other more convenient way?
Signing documents and COVID-19

The impacts of COVID-19 and the need for physical distancing mean there have been some changes about signing documents, though these might be short term changes only. Currently there are special regulations in place which enable remote signing of Wills and Enduring Powers of Attorney. Whether we have COVID lockdowns or not, it is great to have a range of options, especially for those with mobility issues or who are too busy to come in and see their lawyer.

So there are plenty of options at the moment. Ask your usual advisor if there are other options for you!