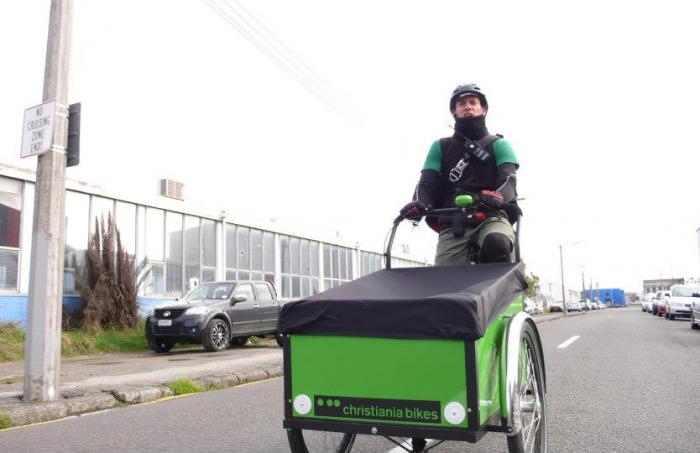 Spotlight on Energy Messengers
When you order something online, you want it to be delivered as quickly and safely as possible. Energy Messengers are experts at quick deliveries around Christchurch's CBD.
Urgent deliveries around Christchurch
"We specialise in urgent deliveries around Christchurch. Since 2011, our custom made delivery bikes have taken a wide variety of packages across the inner city. We can be a lot quicker than vans getting through traffic, plus we know all of the shortcuts around town," says director and driver Jeremy Teague.
During the 1980s and 1990s, before email became commonplace, there were a number of bike delivery companies making their way around Christchurch. Today, Energy Messengers is the only one using freight bikes.
Big or small, delivering it all
"It's funny, but we do a lot of deliveries for the automotive industry," says Jeremy. "People going to work drop their cars off to be fixed during the day. If the garage needs a part, they need it as soon as possible and they don't have time to send one of their guys to collect parts."
That's where Energy Messengers deliver.
"You may not think that our bikes could handle car parts, but they can actually carry a fair bit of weight. We get the car parts from the supplier to the garage as quickly as possible, so they can have their customer's cars ready by the end of the day," Jeremy says.
In addition to workshops, Energy Messengers does a bit of work for law firms, including Godfreys Law.
"While lots can be emailed, in some cases other lawyers or the courts need to see original documents. Our bike messengers deliver paperwork to the district court, or take house keys to other law firms when people sell their homes," he says.
Managing the fallout from COVID 19
When New Zealand moved into Alert Level 4, the bikes ran to a halt.
"In some ways it was nice to have a break from the bikes," says Jeremy, "but of course COVID-19 made me worry about my business. During lockdown I found some of Godfreys Law's webinars on employment and running a business quite useful."
With the move to Alert Level 3, Jeremy and his team could get back on the bikes for contactless deliveries.
"Originally, we were a lot busier than expected," says Jeremy. "I guess there was a bit of backlog that needed to be cleared, and we're grateful to our customers for their support. We're still finding our feet in this new normal. Many businesses are hurting, and we've taken a little hit as a result. It's to be expected."
One of the perks of constantly travelling around Christchurch's CBD is tracking the progress and watching new developments go up. Jeremy hopes other businesses look to the future, and consider how their decisions will impact it.
Working towards a cleaner, greener Christchurch
"I started Energy Messengers because I thought about how I wanted the world to be. I wanted to provide an alternative to courier vans for getting packages around the inner-city faster, without adding to congestion and pollution. We know by getting items from A to B quickly and safely, we're supporting other local businesses around Christchurch too."
If you work around central Christchurch and need to deliver goods, have a look at Energy Messengers. You can find out more about their green, bicycle delivery service here.