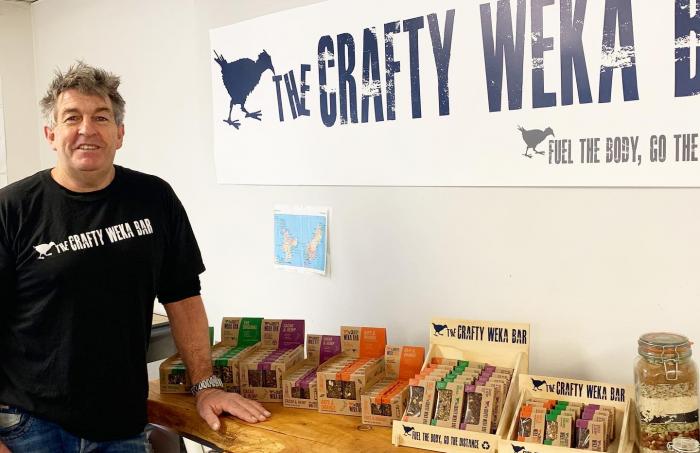 People love eating healthy. When you know what you're eating is dairy free, egg free, soy free and most importantly of all, delicious, the success of Crafty Weka Bars should come as no surprise.
"Our growth in the last year has been aggressive, but controlled," says managing director of Crafty Weka Bars, David Dunn. "We've gone from being a side-project to a stand alone company, with our bars available in about 600 stores nationwide."
David and his team make their healthy Crafty Weka Bars in Christchurch and he credits their success to their local, all-natural approach.
"We make our bars in small batches, sourcing local ingredients where possible, with all-natural sugars and no artificial additives. We use manuka honey as a natural preservative, and we choose compostable and biodegradable packaging, which makes Crafty Weka Bars unique. People love that they're good for them and good for the environment," says David.
Crafty Weka Bars are available in three flavours. The original seed and nut bar, date and orange, plus cacao and hemp.
"We like David's healthy and environmentally friendly stance, and we are thrilled with the success he's enjoyed in New Zealand," says Godfreys Law Partner Philip Sewell. "One of the highlights of my job is following the growth of our clients and celebrating their achievements."

From New Zealand to the world

Long before COVID-19 made headlines, David had his sights firmly set on the world stage.
"We're so proud that New Zealand Trade and Enterprise (NZTE) have chosen to work with us. New Zealand has such a great reputation internationally, and America's health food market is massive. We saw an opportunity to showcase an all-natural, Kiwi made product across the United States and NZTE have helped make that a reality."
Preparing any product for export is a mammoth undertaking. Even more so when you're exporting food. For David and the team at Crafty Weka Bars, it's meant making sure packaging and labelling is compliant with American food laws, that their intellectual property is protected, and setting up a supply chain to make sure their bars can reach American shelves.
All going well, David hopes to start exporting Crafty Weka Bars to the United States before the end of the year.
"Our growth within New Zealand has been incredible. Within the last year we've created our own production team so we can be a one-stop-shop for creating, packaging and shipping our product," says David. "The American health food market is just so much bigger. Conservatively, we could need a few more people making Crafty Weka Bars here in Christchurch to step up production in order to meet demand."

Dealing with COVID-19

New Zealand's COVID-19 lockdown brought little rest for David.
"As a food producer who supplies local supermarkets, we were an essential business. We scaled down production, but still made enough bars to keep shelves stocked and everyone employed," says David. "Of course I would have preferred to be going full-steam ahead, but lockdown did give me some time for evaluating my business and planning our launch into America."

Supporting local, Kiwi businesses

The idea of supporting local businesses is one David is very familiar with, and has been a foundation of Crafty Weka Bars from the beginning.
"There's a high flow-on effect from supporting local businesses. Buying a Crafty Weka Bar is supporting all of the growers, farmers and beekeepers who supply us with our raw ingredients. We've needed graphic designers to prepare both New Zealand and American compliant labels and packaging, plus Kiwi web designers to get our online store ready. We've placed extra orders with our local Christchurch packing company so we can keep shipping nationally while preparing to ship internationally. More than the people we directly employ, these people in companies who support us all benefit when we buy from local businesses."
As he prepares the final details for the American launch of Crafty Weka Bars, David is grateful for his Kiwi customers and the local teams who have supported him since the beginning.
"To succeed in business, it's vital to have people around you who give sound advice. The people at the NZTE have been vital for helping me get Crafty Weka Bars ready to export overseas. Closer to home, I rely on Philip and the team at Godfreys Law for advice around lease agreements, contracts and employment matters. It's useful knowing I have someone I can call when I need to."
Want to know more about Crafty Weka Bars, and more importantly, where you can find them? You can find more information on their website, or you can find them on Facebook or Instagram.